KESH BHRINGA is International Organization for Standardization (ISO 9001-2015 & ISO 22000-2005)  certified  Ayurvedic Hair Oil & Herbal Shampoo that promotes hair growth, prevents untimely graying of hair and prevents hair loss. Nourishes hair and deeply repairs hair follicles, rejuvenates dead follicles. Ayurvedic Hair Oil & Herbal Shampoo strengthen hair, moisturizes to make hair strong, shiny, silky, and soft.
THE STRENGTH OF NATURAL INGREDIENTS

Made of 100% natural ingredients, Kesh Bhringa Ayurvedic Hair Oil & Herbal Shampoo  is completely safe to use with no side effect. It's made of more than 10 year's research by our experienced Ayurvedacharyas. It is completely free from any harmful chemical and there is complete surety to be gentle for your hair follicles and scalp.

How does hair grow?
Hair grows from the follicle, or root, beneath the skin. The hair is fed by blood vessels at the base of the follicle at Subcutanious region of skin, which give it the nourishment it needs to grow. In the process of starting to grow and falling out few years later, each hair undergoes three stages: anagen, catagen and telogen. Every hair can be at a different stage of the growth cycle at any given time.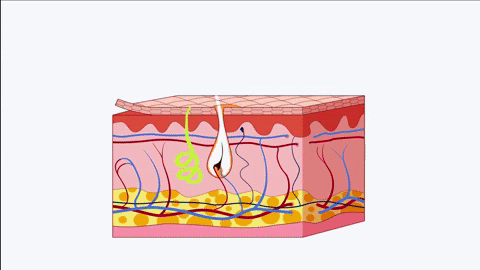 1. Anagen (Growing Phase)
The growing phase lasts 2-7 years and determines the length of our hair.
2. Catagen (Transition Phase)
This is the transitional stage that lasts about 10 days. The hair follicle shrinks and detaches from the dermal papilla.
3. Telogen (Resting Phase)
This is the resting phase which lasts around three months. Around 10-15 percent of hairs are in this phase. Whilst the old hair is resting, a new hair begins the growth phase.


Anagen restarts again:
Post this, the hair remain into the resting phase where the old hair sheds and a new hair continues to grow. Approximately 50 to 150 hairs can fall out daily, this is considered to be normal hair shedding.
If hairs enter the resting phase too early, excess shedding and noticeable thinning can occur. That can ultimately result into baldness or Alopecia.

Reasons of Hair Fall

Over time, the length of the Anagen stage decreases because of various reasons including hereditary, stress, pollution, use of cosmetic products, lack of blood circulation, lack of nutrients required for hair growth, dandruff and hormonal imbalance, Inherited hypersensitivity of the hair follicles to androgens, particularly to DHT (dihydrotestosterone), causes the hair follicles to degenerate continuously.

It causes the dormancy of new hair in Anagen phased while 50 to 150 hairs keep falling daily. Since the hair fall keep continue and new hair stops growing, just remains in dormant or almost dead stage, baldness or Alopecia starts to appear.

Solution of Alopecia, Baldness and Hair Fall:
Kesh Bhringa is a powerful Ayurvedic Hair Oil & Herbal Shampoo   that has highly active researched ingredients which not only nourishes existing hair to make them strong, healthy and thick but it also stimulates the blood circulation to revitalize the dying and dormant hair. Thus the Anagen phase of that follicle starts again and new hair growth starts observing.

20 minutes massage ensures that the oil and its activated ingredients go to the depth of the skin at follicles of hair via capillaries, piercing epidermic and endodermic regions of skin.
Shampoo removes dust and pollution particles and makes the skin of head softer to permit better penetration of Hair Oil.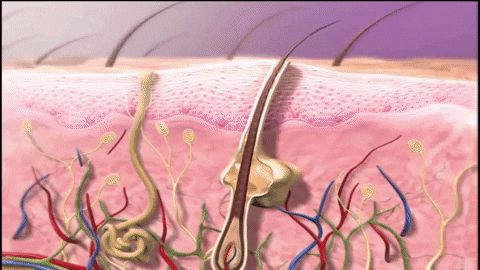 Kesh Bhringa supplements supply vital nutrients to the hair follicle to prolong the hair growth cycle, thereby promoting existing hair growth.*


How does Kesh Bhringa Work?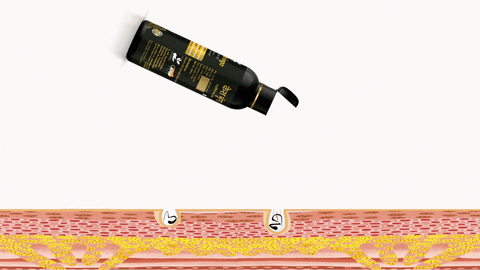 Kesh Bhringa hair oil nourishes hair follicles from within in four stages. Users may notice a difference in as little as 30-40 days.*
Stage 1: Activated ingredients of oil nourishes hair follicles from within *
Stage 2: Shampoo removes dust, oil, dirt, sweat and other pollutants to control dandruff and makes the head skin soft for better penetration of oil*
Stage 3: Strengthens and promotes the growth of existing hair*
Stage 4: Promotes the growth of hair that has slowed or stopped growing*
Stage 5: Stimulate blood supply, stimulates the scalp, prevents the production of DHT (a damaging compound that causes follicles to shrink) and hence Hair is noticeably stronger, healthier and more vibrant*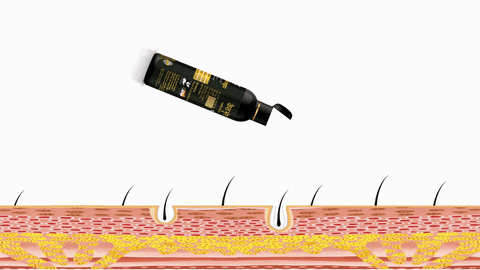 Kesh Bhringa is formulated with a unique complex of active ingredients which help improve hair thickness and overall health in as little as 4 weeks*.


•    Accelerates hair growth and thickening of hair.
•    Removes dandruff and hence reduces hair fall
•    Powerful and immediate repair of current damaged hair.
•    Cleanses and strengthens for thicker, fuller looking hair
•    Key active ingredients prevent breakage and promote the look of thickness
•    Free from SLS, SLES, Parabens & Artificial Colors
•    Nourishes thinning hair and promotes existing hair growth from within*
•    Surgery-free, easy-to-use solution for hair growth*
•    Suitable for all hair types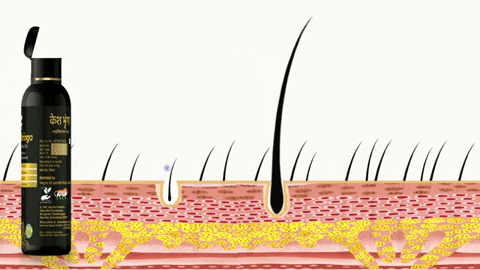 Ingredients of Kesh Bhringa Hair Oil and their effects:
1. Rich in Nutrition:
Bhringraj is rich in proteins, vitamins and antioxidants. It effectively increases blood circulation in the scalp and hair follicles, which in turn enriches the roots by bringing in more nutrients through the blood supply and promote hair growth
Amla is rich in vitamin C. In fact, the surplus of vitamin C in amla helps in stopping premature greying. Stimulate hair growth.

2. Improves Blood Circulation at Hair Follicle:
Castor oil is the best oil to enrich your scalp. It contains ricinoleic acid and omega-6 fatty acids and therefore when massaged onto the scalp it helps in increasing the blood circulation which improves hair growth.
Rosemary oil stimulates blood circulation to the scalp and promotes hair growth. This herb oil offers an anti-inflammatory benefit that helps to nourish hair follicles.
Narikela increases blood circulation to the scalp leading to better hair growth.
Almonds are rich in omega fatty acids 3 and 6 that make promotes healthy and required blood flow that promotes hair growth.

3. Controls Infections:
Haritaki is useful for treating scalp infections like dandruff, itching and hair fall. As a potent constituent in triphala, it cleans the hair follicles, gets rid of dirt and impurities and promotes hair growth.
Vibhitika is said to have antibacterial and antifungal properties. It is also an anti-inflammatory that strengthens the hair roots.
Anantmool helps in removing excess heat from the scalp and also in treating scalp problems like inflammation, dandruff and itching.
Lodhra controls calp infections like ulcers, boils, and dandruff.

4. Promotes Natural Growth of Hair:
Neem has regenerative properties that support healthy cell division and stimulate hair follicle growth and function.
Lavender stimulates hair growth and grows hair thicker and faster than normal. Along with antimicrobial properties, it has a calming effect and divine fragrance

5. Stress Release:
Nilkamal can improve sleep, reduce anxiety.
Mandukaparni helps reduce anxiety due to its anxiolytic activity. It reduces the effect of certain mediators that induce anxiety.

6. Increasing Penetration of Oil:
Mandur Bhasma gently cleanses and makes hair soft, lustrous and black. It helps better penetration of oil

7. Moisturizing and Conditioning of Hair
Tilataila trigger hair growth by nourishing the roots with their rich omega fatty acids content. They also help in moisturizing the scalp and improve blood circulation to rejuvenate hair follicles.
Japakusum provides deep conditioning to the hair, making them smooth and shiny. The amino acids present in these seeds act as a hair conditioner and keep the hair smooth

8. Improving Protein Structure and Repair of Hair
Brahmi helps provide strength and nourishment through the scalp, strengthening the blood vessels; thus, oxygen and nutrients stimulate hair growth and prevent hair loss. The alkaloids in Brahmi bind to the proteins in the hair shaft producing stronger and thicker hair.
Pudina Satva leaves extract are a great source of carotene and antioxidants that promotes hair growth and prevents hair fall.
Mehandi helps bring back the lost health of your hair and repairs damaged locks. Henna restores the acid-alkaline balance of the scalp without affecting the natural balance of your hair.


*These statements have not been evaluated by the Food and Drug Administration.
This product is not intended to diagnose, treat, cure or prevent any disease. Results may vary.

Customer Reviews
04/09/2021
Sushil

India
Unbelievably good product
I just could't believe the result I got. This oil started showing results within 15 days and I am with dark head again after 6 years of baldness. Love this
04/04/2021
Yash

India
Amazing results
I used it for 2 months and half my head is filled with hair again. I had lost almost all my hair. Beautiful product, not even thought of such thing exists in the world.